Every now and then, we get to photograph a couple whose wedding entourage of brothers and sisters are so diverse in character and background. This diversity brings out the best in both the bride and groom. Not forgetting that it's this diversity which brings up the wedding day itself.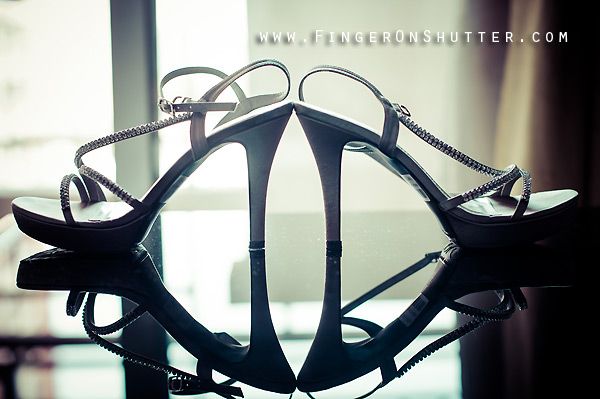 The day started with both Jason and I heading off to the bride and groom's place respectively. However, due to miscommunication, I ended up at the groom's parents' place instead. And the best thing was that, the house was all decorated up with that red cloth over the main entrance and all. So I thought I was at the right place. Good thing we are always early. Much earlier than require, just in case there's an unforeseen circumstances like this one. So I made my way to the groom's place, with some time to spare. That's the beauty of being early, there's time to rectify any errors.
So anyways, Jason had already arrived at the bride's place. And the atmosphere was electric! The bridesmaids hurried around the house preparing the games for the groom's men later on, while the parents and other relatives were busy ensuring everything else was in order.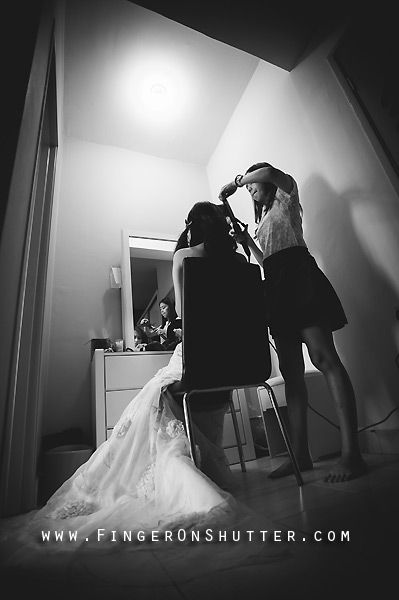 Boon Pei is a real fun bride. Her energy and enthusiasm is infectious!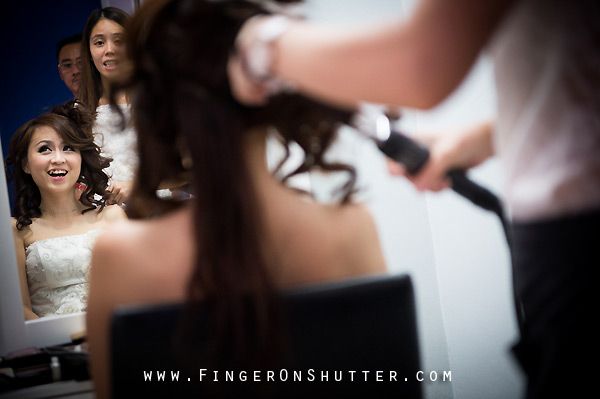 See what I mean?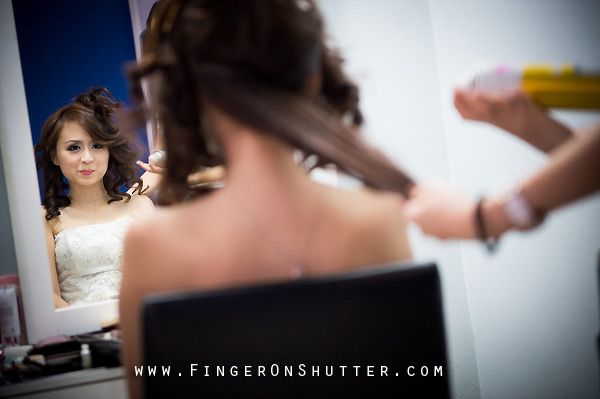 Cheeky!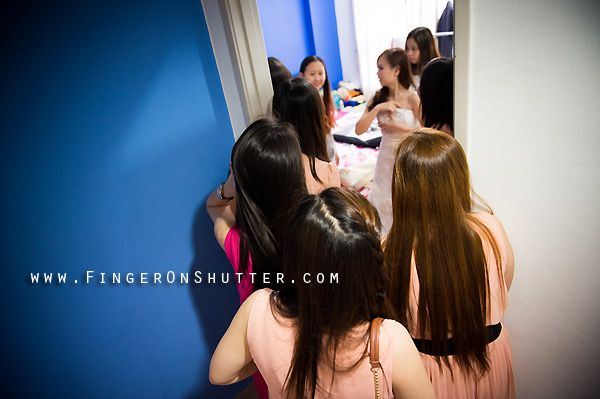 Bridesmaids checking in on the bride.
She is such a gorgeous bride don't you agree?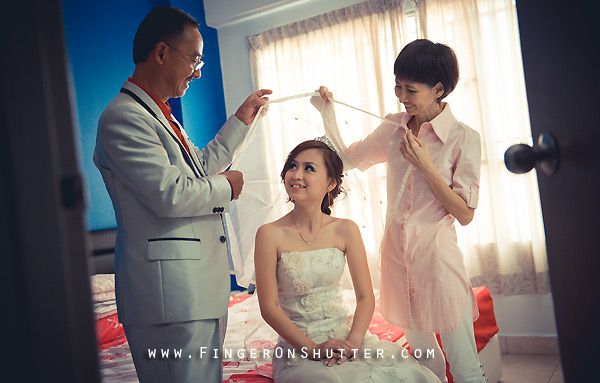 Back at the groom's place, the atmosphere was a little bit relaxed, but excited. His modern and interesting house sets the background for the wedding day.
And then.. let the games begin!!
The groom's men were very into it. With much enthusiasm, they breezed through all the challenges and games brought on by the bridesmaids.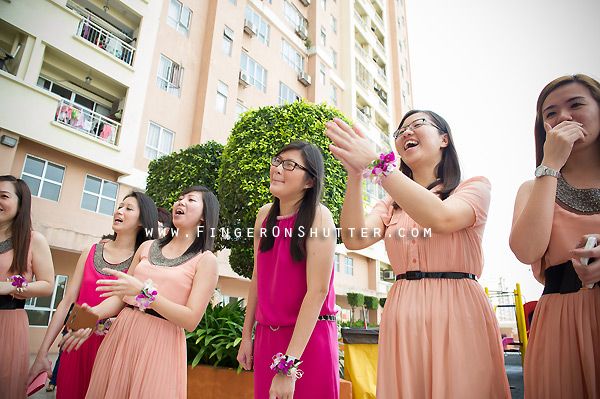 The bridesmaids were thoroughly enjoying the games.
I must admit, the games were rather simple, being more of a group effort and very similar to one of those activities from motivational courses where you and your team mates work together to solve a certain problem, or challenges.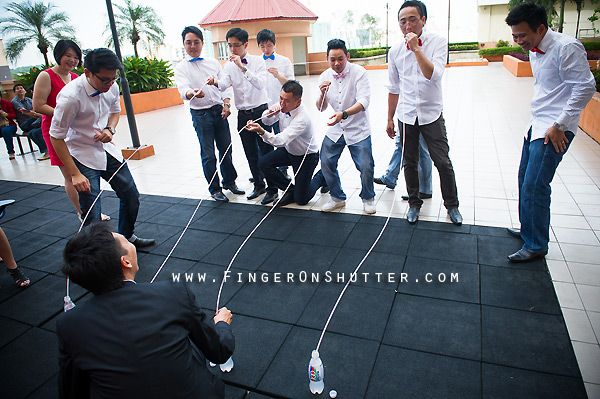 Like this simple task of finishing a bottle of soda placed at a certain distance from them, requiring a combined effort in sucking out the soda. Nothing which degrading or humiliating to the grooms men.
I am sure both sides had a great time! The groom certainly did.
And finally the groom and his entourage got past all the challenges, and had access to the bridal room.
The groom leading his wife.. back to his place.
And to wrap things up…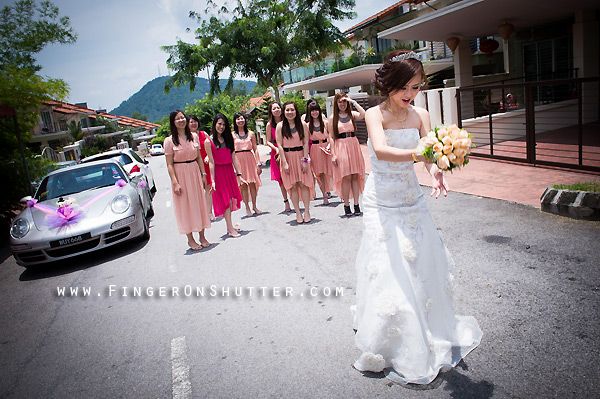 At the end of the day, it was a real fun day with the bride and groom and their friends and relative. They were accommodating, loves to be photographed and fun people to be around.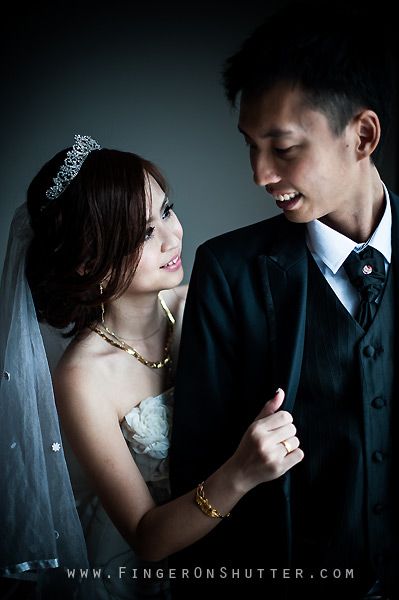 We wish both Eric and Boon Pei the very best.