It was dark when we loaded up our gears into the car. We were scheduled to do a photoshoot at a very exclusive hotel up in the hills. And with only a couple of hours open for us to work our magic, we wanted to ensure that we make full use of those couple of hours.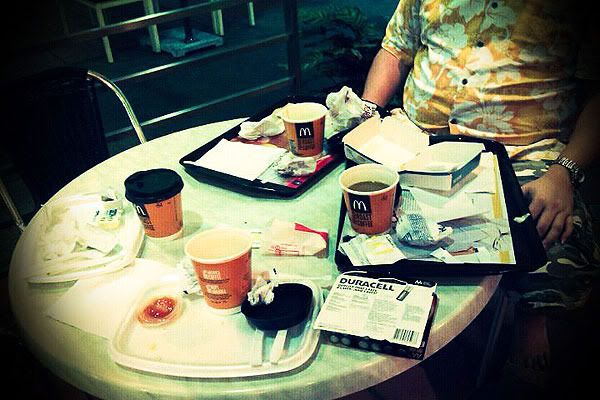 We stopped by McDonald's to have a nice hearty breakfast. We would not be able to have anything else until lunch.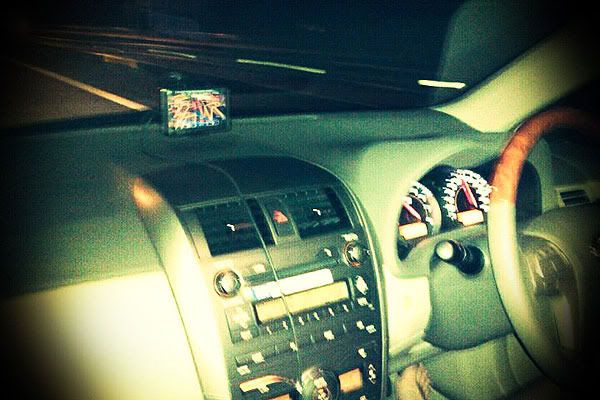 And it was still dark out when we continued our journey up north.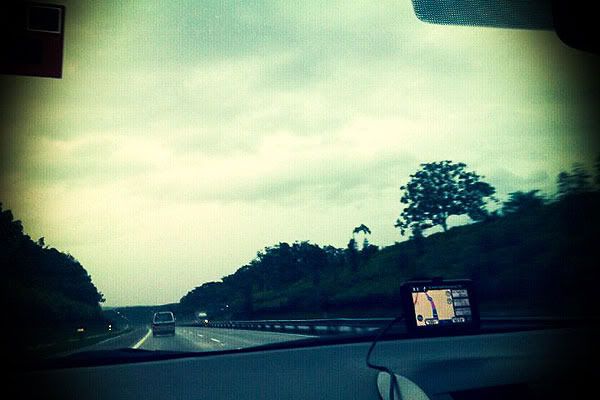 And when light came, the skies got a little gloomy. Which is a good thing actually. Not too hot.
We at FingerOnShutter do not like the heat. hahaha. We prefer the cold.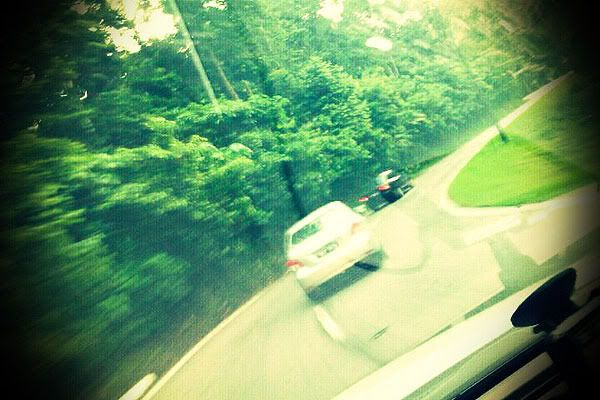 After the long straight comfortable road of the highway, we ventured into the narrower and with much more twists and turn roads up to Cameron Highlands.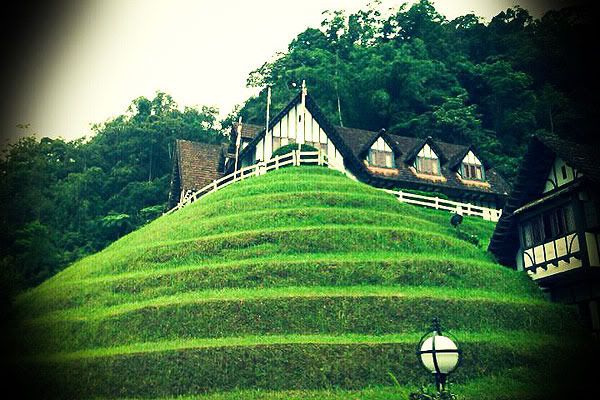 Finally after about.. erm.. i am not sure actually.. but about 3-4 hours later, we arrived at the exclusive hotel. Very nice actually. And the nice cool weather makes sure that we do not have to wring our face towels……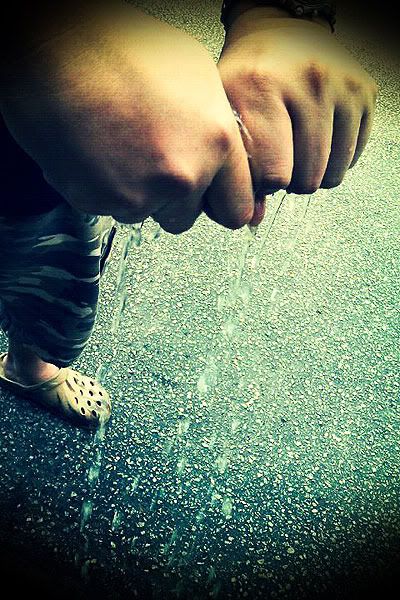 .. like this. It was one of the most comfortable shoots ever for us. Remember, we love the cold. The colder the better
Here we see the groom himself taking up his trusty Canon to photograph his wife getting ready.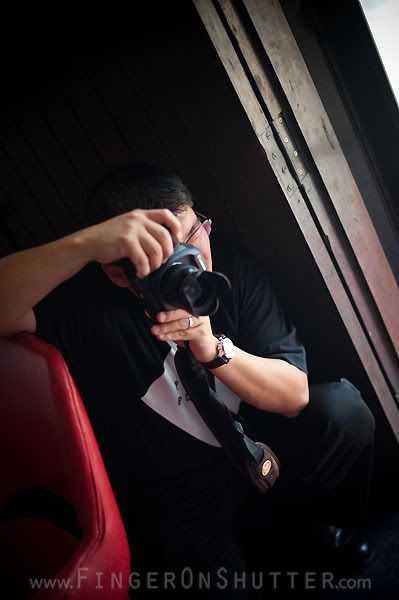 The groom… from fishingcow.blogspot.com squeezing between the chair and wall for his angle.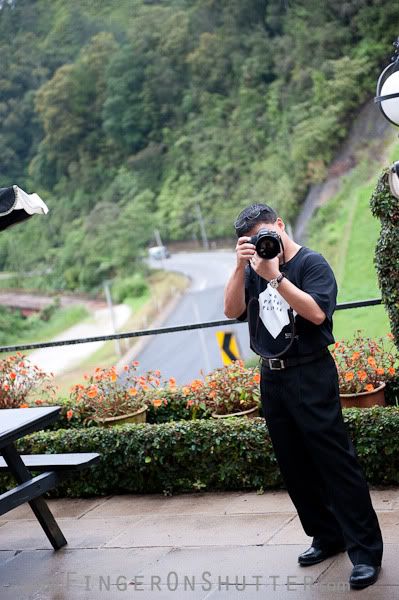 He is an avid photographer as well. He was rather busy with his camera that day.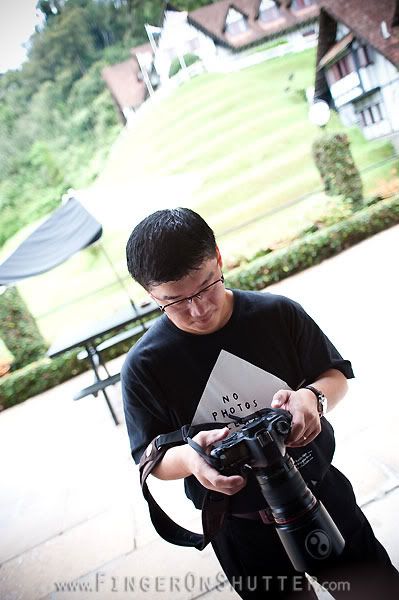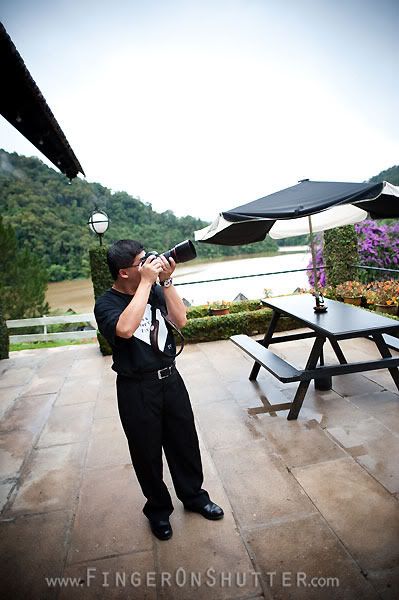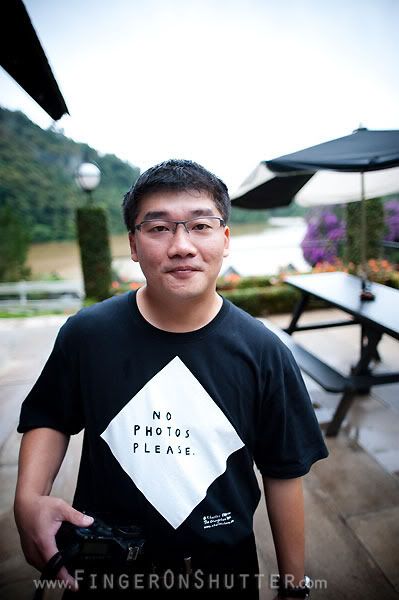 No photos please. Interesting t-shirt. Fortunately what he wears does not relate directly to how he thinks. He's not very camera shy.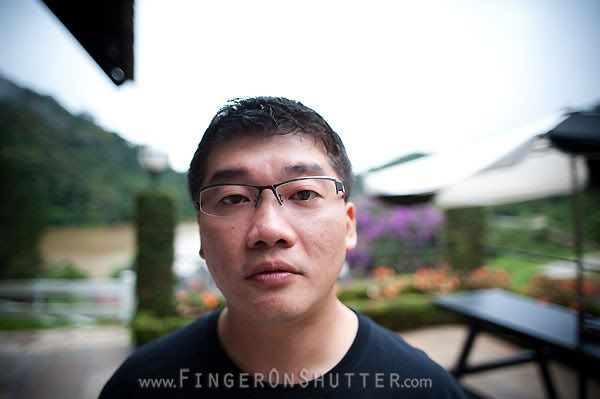 Somehow I like the effect of this photo. 24mm @ f1.8 gives a unique and interesting view and bokeh.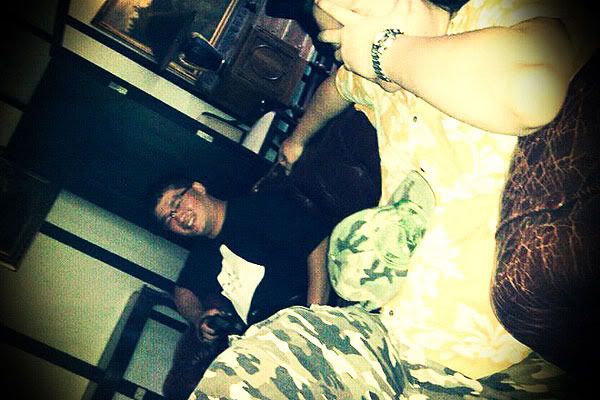 The hotel had plenty of place for us to hang out while waiting for the bride to get ready.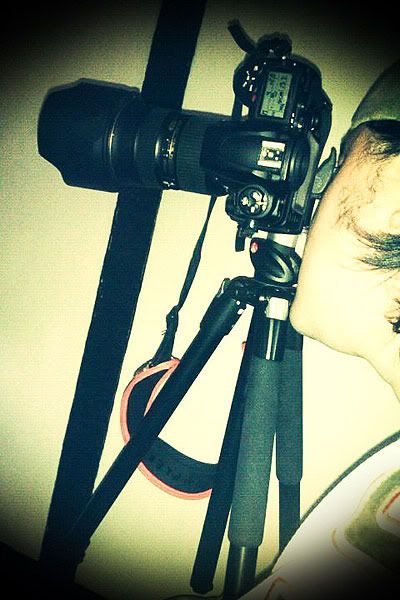 Then it was time to get down and serious and proceed with the photoshoot.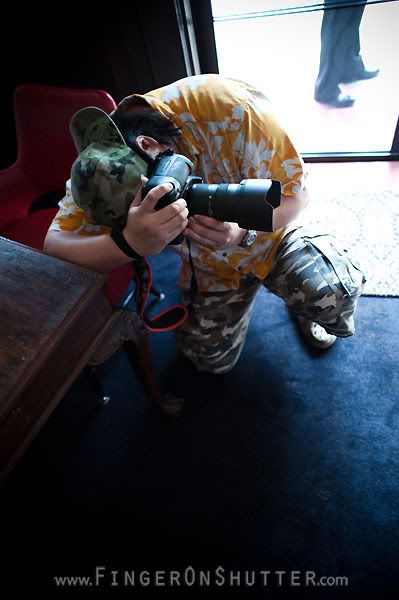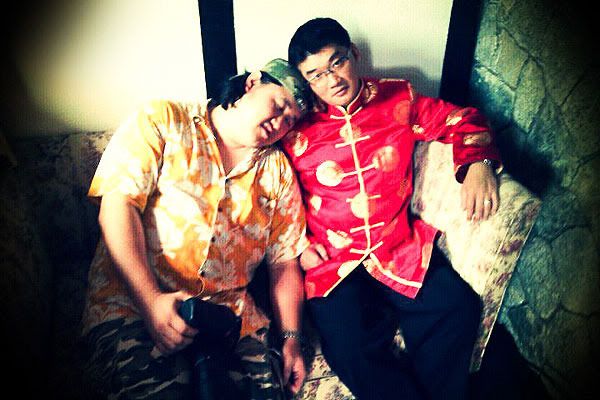 Hmmm.. I wonder what these two are trying to do.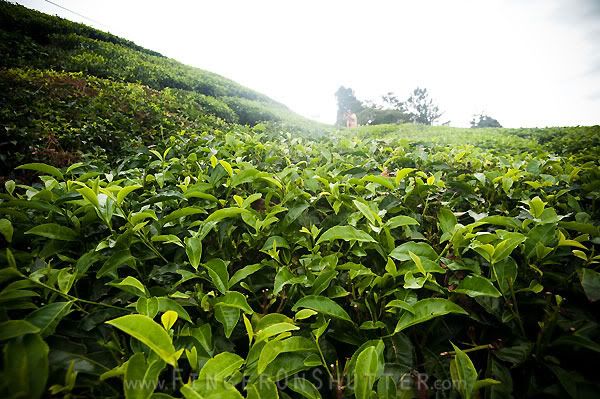 We continued our photoshoot to one of the tea plantations. That's Jason at the top of the hill.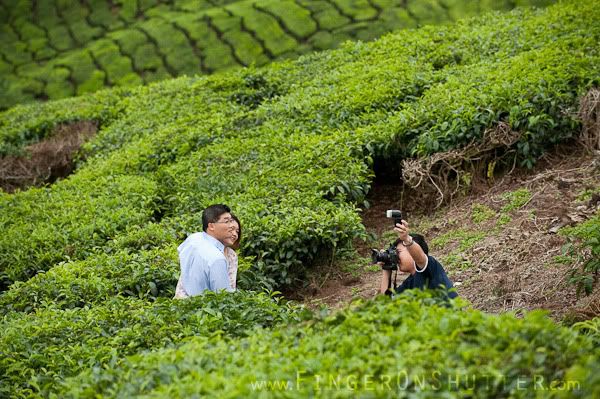 That's me trying CLS on the couple.
This is Ming… our make up artist for the day
After the whole day of driving and photoshooting, we decided to call it a day and proceeded up to the top of the hill.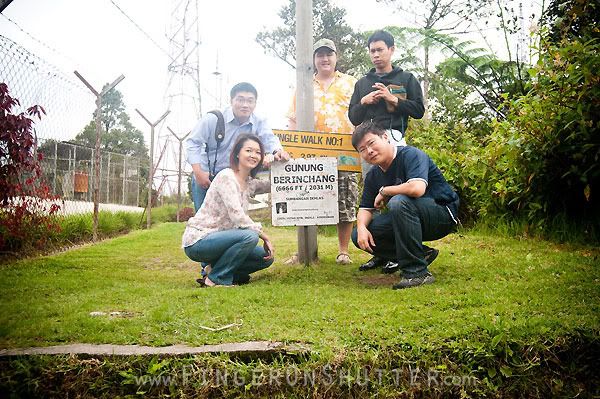 6666 feet above sea level.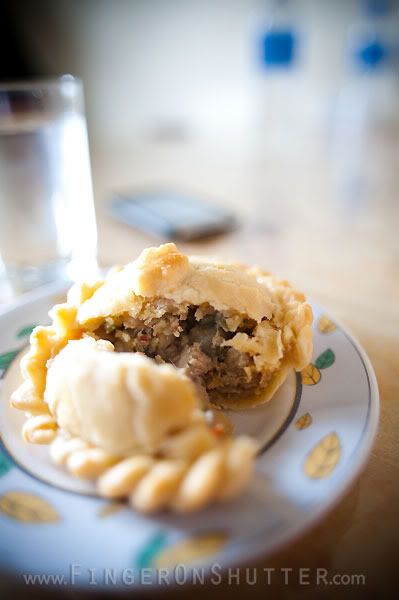 Oh.. sorry. We forgot that we had this for our quick lunch. Actually we wanted to have something big. But due to time constraints, we decided to have something quick, but nice.
We proceeded to head to the night market to pick up some vegetables, corns and other stuff not usually or readily available in KL. On the way…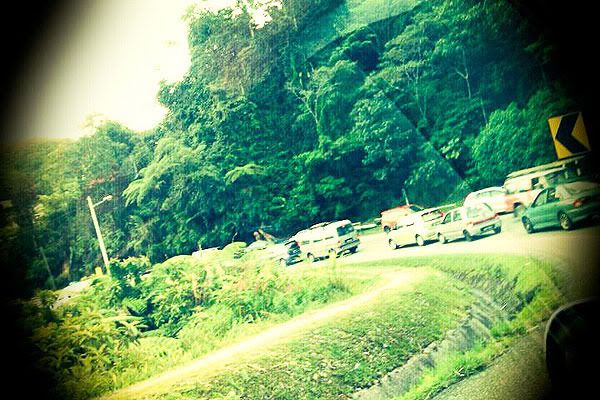 We encountered this very long queue of cars, which was about 1-2km long queueing up to the night market. This is crazy! But it was not that bad. We reached the night market about 10-15 minutes later. What was worse was the parking. Oh… my. Our lucky stars must be shining upon us that moment as a car was just reversing out of a park as we were passing by. *phew*
We stayed the night.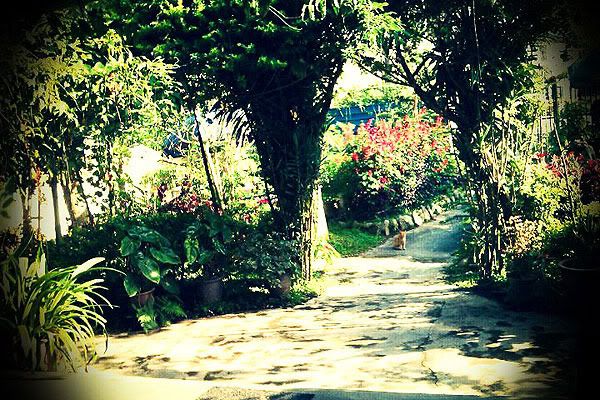 It was kind of a cosy place. This photo was taken early the next morning. Nice sun, cooling weather. Ahhh…. bliss.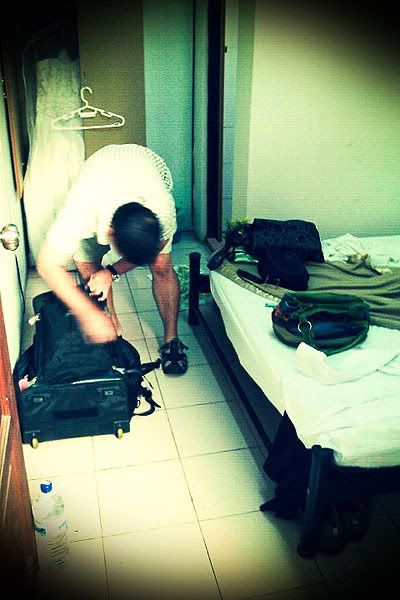 After a nice hearty breakfast, we packed, and continued photoshooting the bride and groom.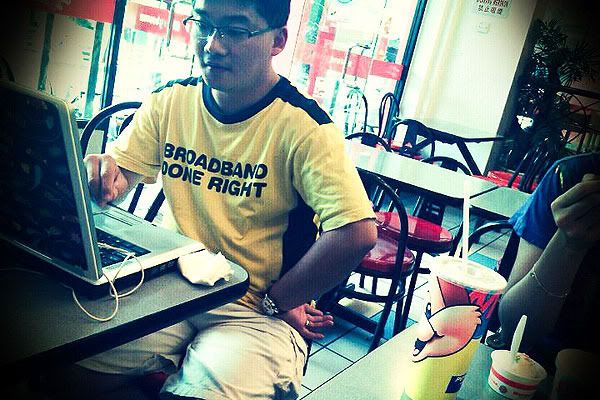 Had nice little quick lunch at Mary Brown and a little web surfing, and we were headed back to KL!
It was a fun trip. A successful photoshoot. And a refreshing break from the city. We are currently working on some of the photos from the photoshoot. We will be uploading them very soon. So check back often ok?
Cheerio!
Oh.. by the way, some of the photos here are taken by HTC Legend using the 'Lomo' effect camera application