I was really excited. I could not sleep the night before. It has always been my life long dream to actually pilot an aircraft. Last weekend, that dream came true. Courtesy of DiGi via their 'I Am Curious' campaign, Jason and I could get on a small plane and fly around KL. Plus I get to pilot the plane… just for a little while but it was good enough for me.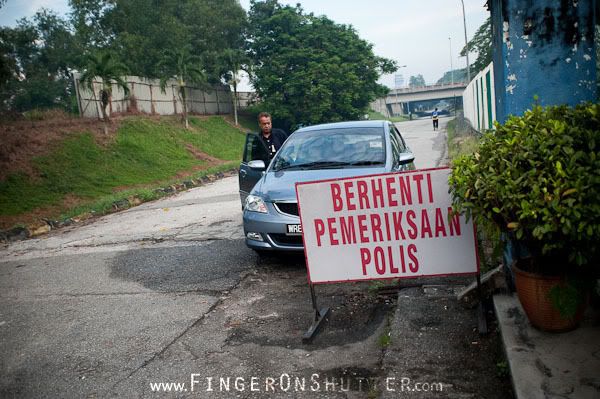 Security was rather tight and so was their regulations. All vehicles parked outside the premise and you walk in. I guess it's to prevent any unwanted incidents. DiGi was kind enough to arrange transport to enter the premise so we do not have to talk all the way in.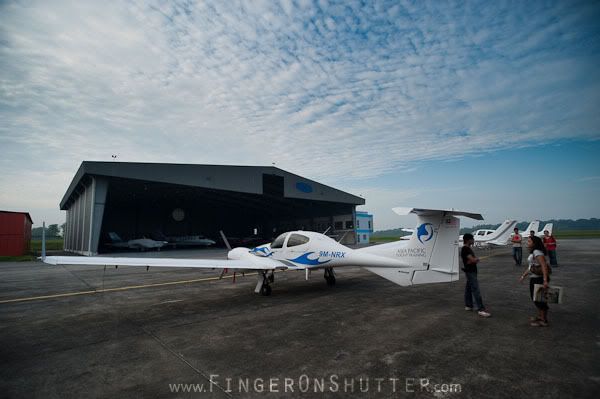 As we waited for our turn to hitch a ride in, the constant roar of aircrafts taking off, landing and taxing on the runway was already nudging up my excitement level. Upon arrival at the hangar, the sight of the aircrafts and the wide open space of the runway redlined my excitement level.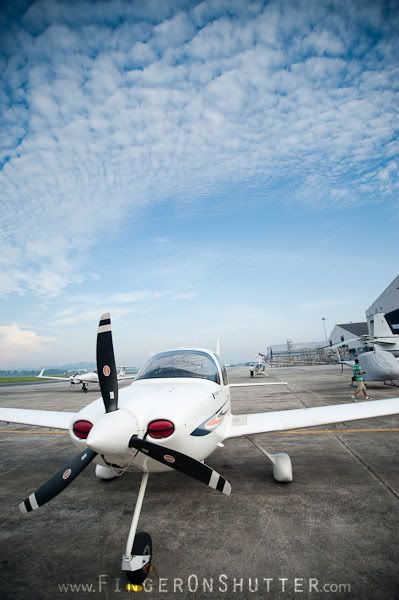 The day had started really well. It was a cool morning with clear blue skies which beckons.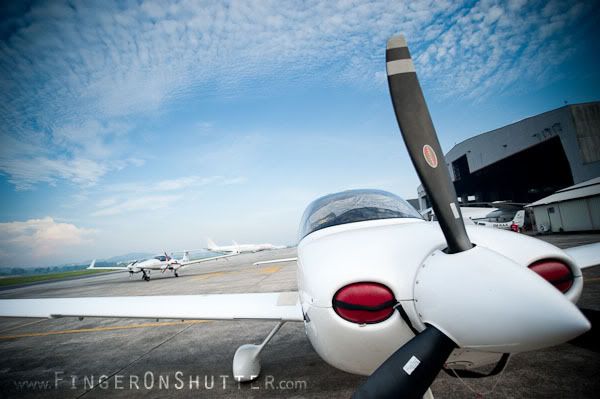 The aircrafts on stand by also beckons. My heart was racing as I paced through them. Such elegant machines they are.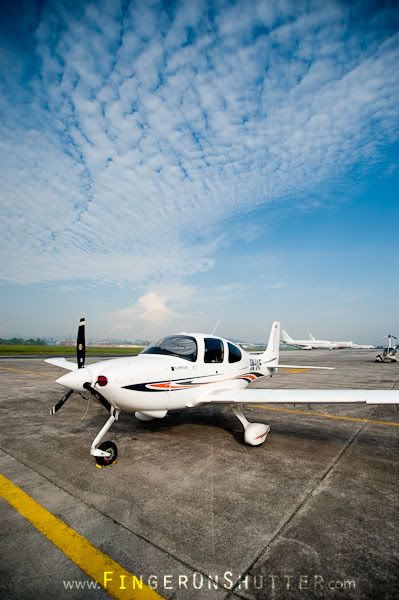 This is the aircraft we were assigned to; the Cirrus SR20 4 seater. It's a light aircraft.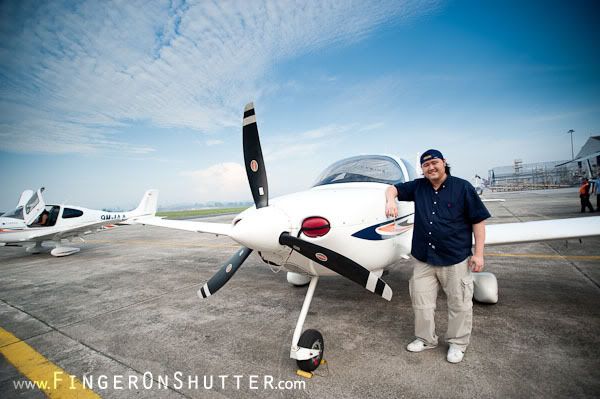 Here we can see the size comparison. hehehe.
There were 4 other groups besides us. And since they were earlier than us, they went up first and we were the last to go up in the air.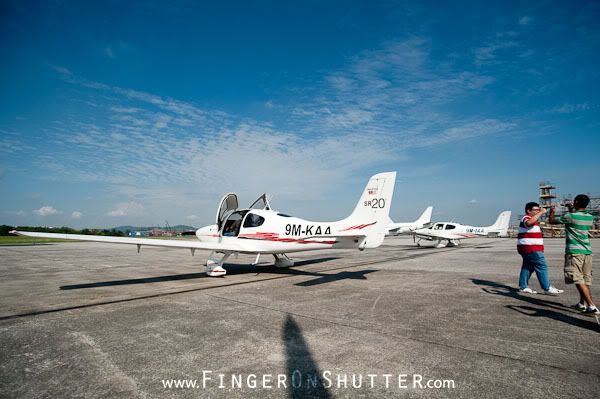 After one group comes back, the next group goes up. So while waiting, we had sometime to look around.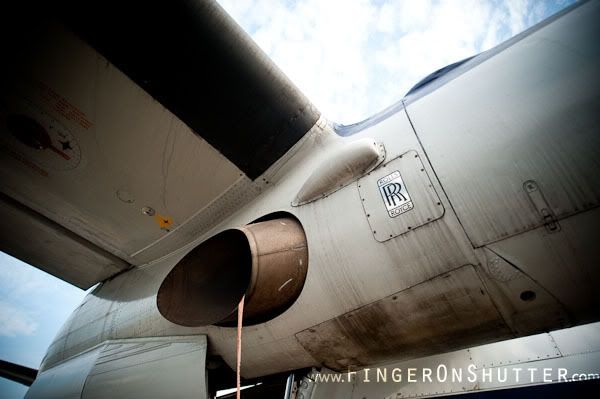 .. and we found this… Rolls punya engine! Fuhyor! Hebat!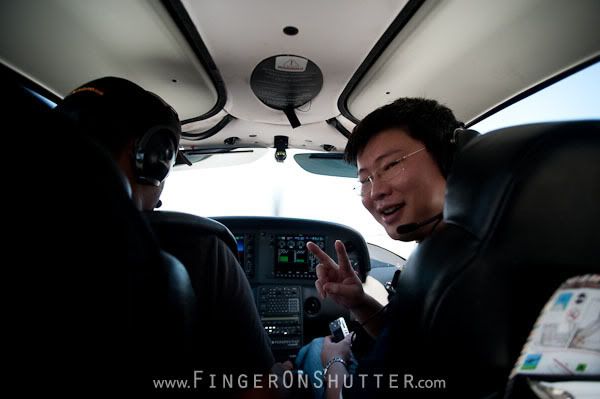 Very soon it was our turn. I get to sit infront because I get to pilot the plane. Weeeee!!! And the aircraft has quite modern avionics!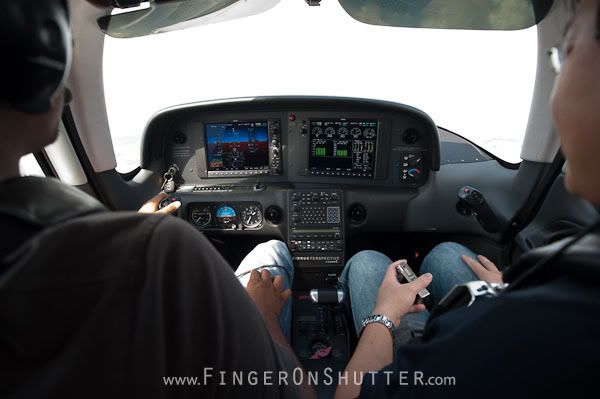 Check out the multi-function display. And the side-mounted control stick. The entire cockpit is surprising spacious. Still quite tight, probably like a kelisa. But the rear has got plenty of leg room.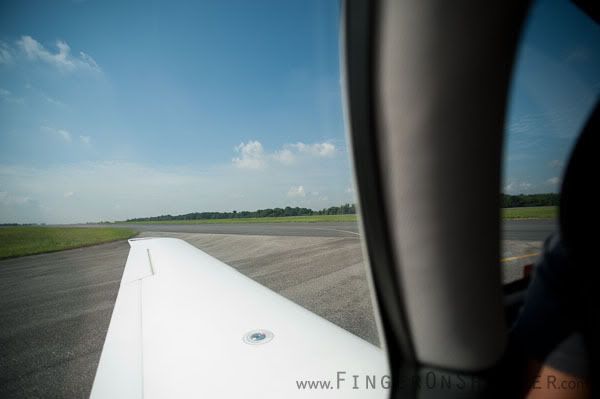 After some chit chat with the tower, our captain… Captain Razeef proceeded to the runway and we are off!!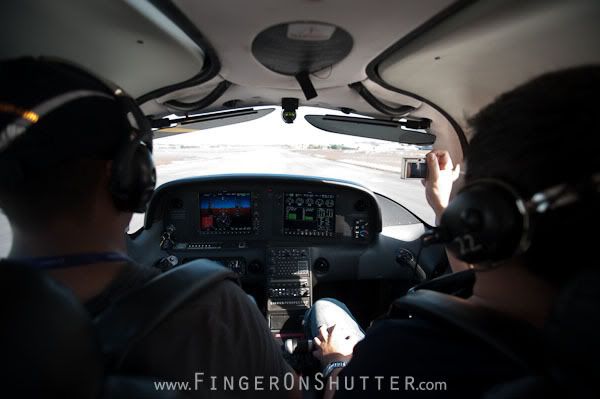 I took video.
And we are off the ground!!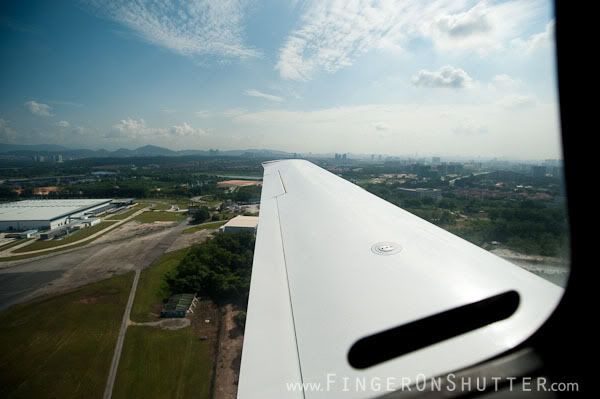 The feeling is really raw. You feel everything little bump and turbulence.
Jason feeling rather ecstatic. Especially when he learnt that we were going up in the Cirrus SR20 instead of the Cessna 100 series. Plus… another secret weapon of the Cirrus SR20 which put us all at ease……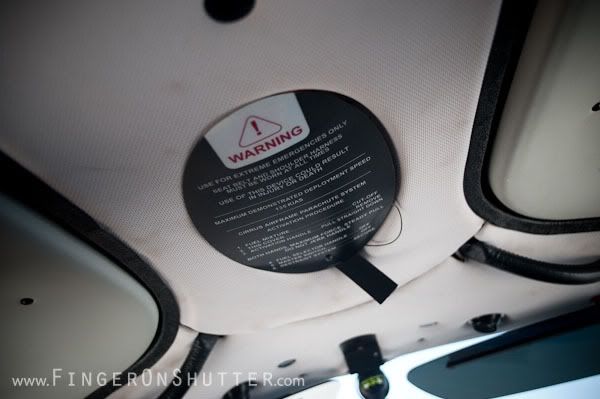 Hidden behind this cover is the release lever for the CAPS or Cirrus Airframe Parachute System. It's specifically designed by Ballistic Recovery System (BRS) for Cirrus. And that the Cirrus SR20 is the first every aircraft to implement this system.
We flew around KL for about 20-30 minutes.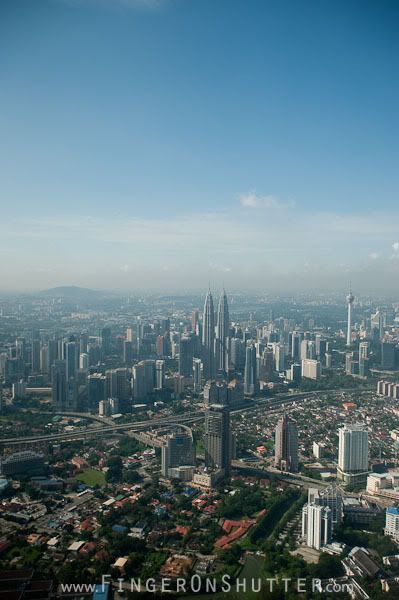 A wonderful view of KL city from the air.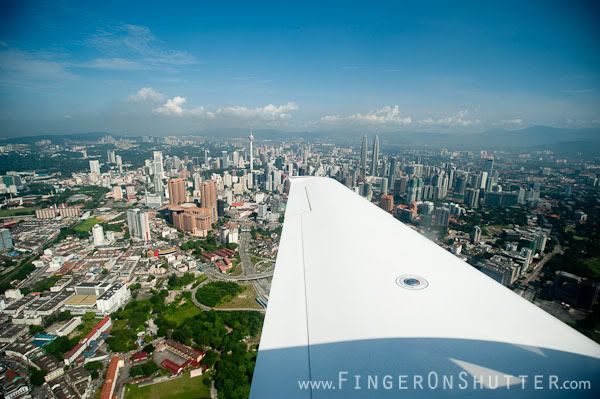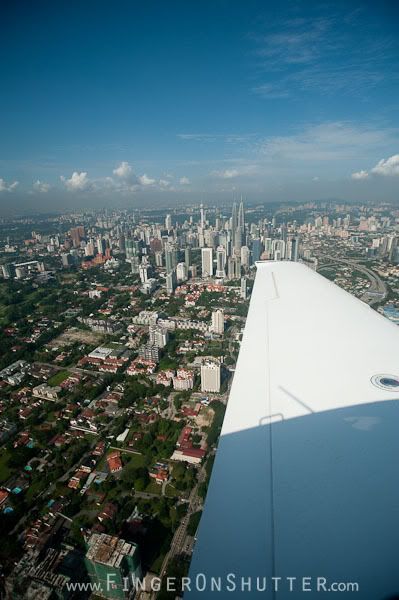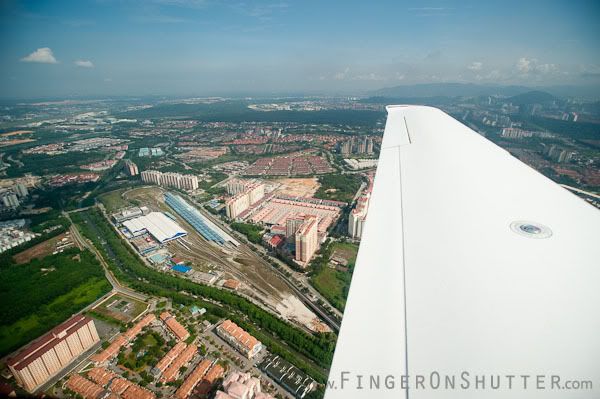 Oh.. and the highlight of the day…
I get to pilot the aircraft for a while. Nothing much. Just a couple of banks, dive a little bit then pull up a little bit.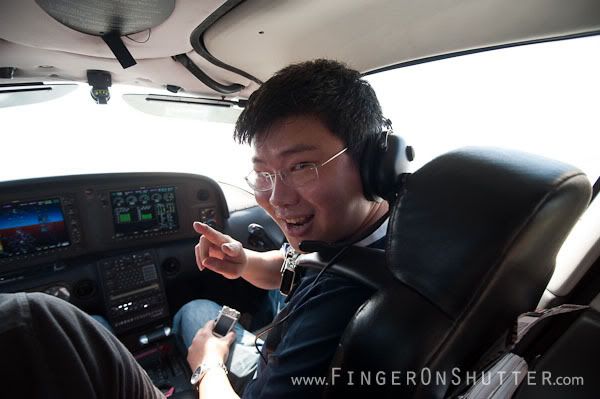 Happy man!!
Oh.. Captain Razeef also did a quick negative G dip which lifted us off out seats screaming!! Woo.. fun!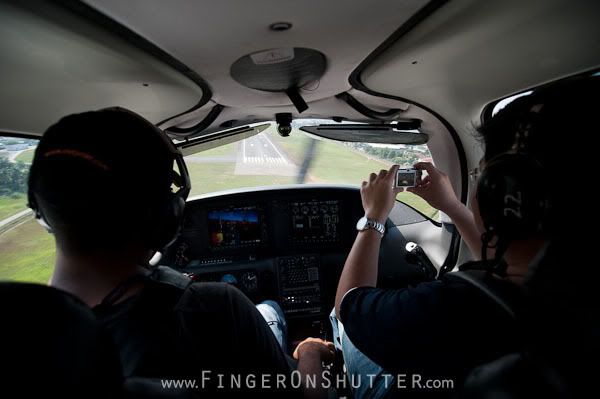 Before we had time to recover from our excitement, we were headed back to the airport.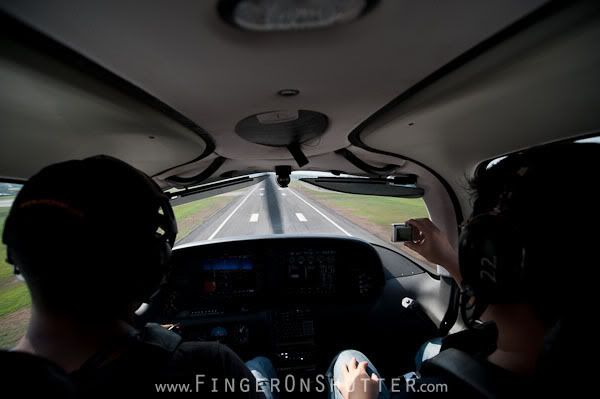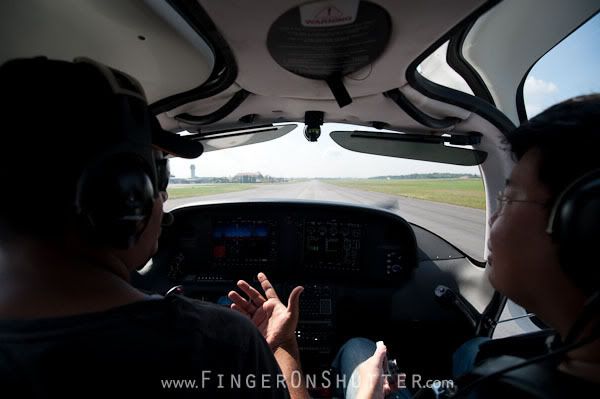 Touch down!!
When asked, Captain Razeef assured me that it's not difficult to fly. After a while, you will get used to it and it would be like driving a car.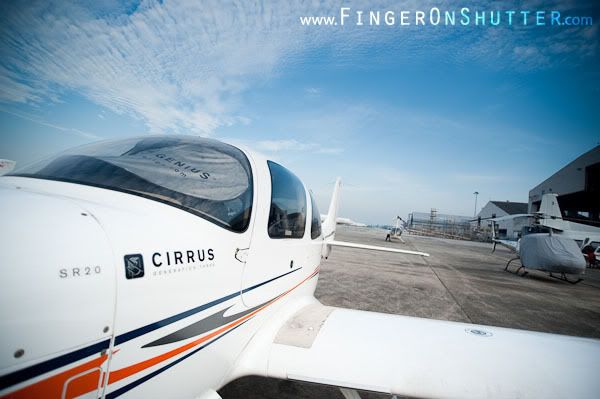 It was a real fun day. An opportunity of a lifetime to get into one of these aircraft and fly around KL. I would not mine having one of these for myself. Anytime can make a day trip to Penang for some Prawn Mee.
Check out the movie!!
And last but not least. Thanks Digi for the opportunity. !!